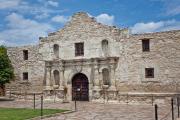 Edit
The Alamo | El Alamo
300 Alamo Plaza
, San Antonio
, TX
78205
|
Directions
Hours:
Mon-Sun:
9:00 am - 5:30 pm
/
About The Alamo | El Alamo
The Mission San Antonio de Valero (a.k.a. The Alamo), where Mexican General Santa Anna's army defeated Davy Crockett, Jim Bowie and 188 others on March 6, 1836, is the most famous spot in Texas. Its museum displays items from the Republic of Texas and documents the story of the Alamo's fall. Built in 1718 as the city's first mission, the chapel is one of the United States' most photographed facades.
The first thing you might think when you see the Alamo is, "Man, that sure is small". After all, this is Texas, where everything's supposed to be big. But it's what the Alamo represents - the will of the underdog - that provides its larger-than-life reputation. Indeed, the battle waged at this former Spanish mission, in the winter of 1836, has come to symbolize the universal fight against all odds. It seems fitting, then, that musician Phil Collins, who had a hit song called "Against All Odds", recently announced that he's giving up singing to focus exclusively on studying the famous siege that occurred there.
It doesn't take a scholar to know that the battle of the Alamo ignited the Texas Revolution, leading to Texas' independence from Mexico and eventual statehood. Some 200 Texans, among them Davy Crockett and Jim Bowie, fended off Mexican General Antonio Lopez de Santa Anna's invading army for 13 days, from within the Alamo, before succumbing. Their heroic stand - though it ended in defeat - inspired subsequent Texas troops, led by Sam Houston, to return the favor to Santa Anna just a month and a half later, at the Battle of San Jacinto. The proof of their inspiration was in their rallying cry: "Remember the Alamo!"
More than 2.5 million people do just that each year when they visit the Alamo, in downtown San Antonio. Its centerpiece, the diminutive church-turned-shrine, showcases one of Crockett's buckskin vests and a period Bowie knife. Outside, across the footbridge, are the Alamo Gardens and the Wall of History exhibit, wherein the 300-year-old narrative of the Alamo is broken down. Beyond that is the Long Barrack Museum, built in 1968, which houses a theater for the screening of a 17-minute film on the Alamo. And, of course, there's the requisite gift shop, because without an admission fee there has to be some way of generating funds to preserve this not-so-small piece of Texas history.
- Michael Hoinski