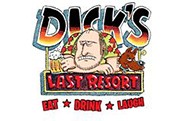 Edit
Dick's Last Resort
406 Navarro St
, San Antonio
, TX
78205
|
Directions
Hours:
Mon-Thu, Sun:
11:00 am - 1:00 am
/
Fri, Sat:
11:00 am - 2:00 am
/
About Dick's Last Resort
Serving with Sarcasm! All in fun and fun for all! Great food with attitude.
Usually tourists are looking for restaurants and bars with friendly service and a taste of the local culture. Others apparently want to be annoyed and insulted by the wait staff while on vacation. Dick's Last Resort has several locations nationwide???usually in tourist heavy areas like San Antonio???where entrees come with insults. Locals don't seem as easily entertained when they're able to go to the bar regularly, but the restaurant is still packed almost every night thanks to its River Walk location. Later at night, live music gets going and so do the staff of bullies at the San Antonio bar. Beware of taking thin-skinned people to Dick's, but for those with a good sense of humor it can be a blast.