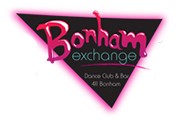 Hours:
Wed, Thu:
4:00 pm - 2:00 am
/
Fri:
4:00 pm - 3:00 am
/
Sat:
8:00 pm - 3:00 am
/
Sun:
8:00 pm - 2:00 am
/
About Bonham Exchange
In the heart of downtown San Antonio, Bonham Exchange fills a historic three-story building with an open mindedness that accepts all individuals regardless of gender, sexual preference, age, race and ethnicity.
This local San Antonio gay club, local bar and dance club has hosted a shocking list of entertainers like Tina Turner, The Ramones and Iggy Pop as well as Broadway shows on tour like Les Miz and Fiddler on the Roof. Five separate bars and dance floors make plenty of room to host such big names as well as big party nights. The Bonham Exchange sports nightly events and drink specials that make this multifaceted San Antonio bar fun for anyone to party at or start a night of barhopping in.