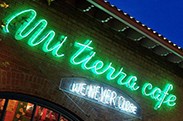 Edit
Mi Tierra Cafe & Panaderia
218 Produce Row
, San Antonio
, TX
78207
|
Directions
Hours:
Mon-Sun:
12:00 am - 11:59 pm
/
About Mi Tierra Cafe & Panaderia
Mi Tierra Cafe has been a San Antonio institution since its opening in 1941. Strolling musicians and authentic Tex-Mex food has made Mi Tierra a popular hub for locals and tourist.
Open 24 hrs. a day and decorated wall-to-wall in Christmas decorations.