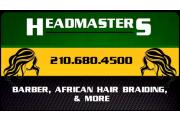 Edit
Headmasters
7914 Culebra Road
, San Antonio
, TX
78251
|
Directions
Hours:
Mon-Fri:
9:00 am - 6:00 pm
/
Sat:
10:00 am - 4:00 pm
/
About Headmasters
Headmasters the most friendliest and professional Authentic African Hair Braiding Salon & Barber
Shop in San Antonio!
Headmasters is proud to serve the San Antonio area, our hair stylists are skilled in authentic
African hair braiding and have created unique and beautiful hair designs for all of our
customers. Not only do we offer hair braiding but we also offer hair cuts, hair weaves and hair
extensions and much more!
Headmasters Videos