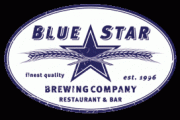 Edit
Blue Star Brewing Company
1414 S Alamo St Suite 105
, San Antonio
, TX
78210
|
Directions
Hours:
Mon-Sun:
open 24 hours
/
About Blue Star Brewing Company
The Blue Star Arts Complex on the border of the San Antonio River is a group of historic warehouse buildings that have been turned into retail space, apartments and of course, the Blue Star Brewery.
With a wide selection of beers brewed on site, the Blue Star Brewing Company is San Antonio's premier brewpub and draws a mixed crowd of artists, business people and local San Antonio college students. The Blue Star Brewing Company also offers a full restaurant menu, which is perfect for those who head straight to the pub after work and also need a bite to eat. The second floor balcony has a view of the San Antonio River and allows drinkers and diners at the brewery to get a breath of fresh air.