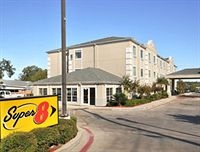 Super 8 San Antonio - Alamodome Area
723 Hot Wells Blvd, San Antonio, TX 78223
1.800.916.2436
About Super 8 San Antonio - Alamodome Area
Super 8 San Antonio - Alamodome Area is a Hotel business in Highland Hills
Property Location
With a stay at Super 8 San Antonio - Alamodome Area in San Antonio (South San Antonio), you'll be close to San Antonio Missions National Park and Republic Golf Course. This motel is within the vicinity of Alamo and River Walk.
Rooms
Make yourself at home in one of the 48 air-conditioned rooms featuring refrigerators and microwaves. Complimentary high-speed (wired) Internet access keeps you connected, and cable programming is available for your entertainment. Conveniences include desks and irons/ironing boards, and housekeeping is provided daily.
Rec, Spa, Premium Amenities
Don't miss out on the many recreational opportunities, including an indoor pool, a sauna, and a fitness center.
Dining
A complimentary continental breakfast is served daily.
Business, Other Amenities
Featured amenities include complimentary high-speed (wired) Internet access, a 24-hour business center, and complimentary newspapers in the lobby. Free self parking is available onsite.
Super 8 San Antonio - Alamodome Area Amenities
24-hour business center
24-hour front desk
Complimentary newspapers in lobby
Elevator/lift
Fitness facilities
Free breakfast
Free self parking
Free wired high-speed Internet
In-room accessibility
Indoor pool
Laundry facilities
Multilingual staff
Number of buildings/towers - 1
Number of floors - 3
Roll-in shower
Safe-deposit box at front desk
Sauna
Total number of rooms - 48
Super 8 San Antonio - Alamodome Area Comfort Room, 1 King Bed, Smoking
1 king bed
Entertainment - Free wired Internet access and premium channels
Food & Drink - Refrigerator and microwave
Bathroom - Hair dryer
Smoking

Room Amenities
Air conditioning
Cable TV service
Cribs/infant beds available
Daily housekeeping
Desk
Free local calls
Free wired high-speed Internet
Hair dryer
Iron/ironing board
Microwave
Premium TV channels
Refrigerator
Rollaway/extra beds available
Super 8 San Antonio - Alamodome Area Standard Room, 1 King Bed
1 king bed
Entertainment - Free wired Internet access and premium channels
Food & Drink - Refrigerator and microwave
Bathroom - Hair dryer
Non-Smoking

Room Amenities
Air conditioning
Cable TV service
Cribs/infant beds available
Daily housekeeping
Desk
Free local calls
Free wired high-speed Internet
Hair dryer
Iron/ironing board
Microwave
Premium TV channels
Refrigerator
Rollaway/extra beds available
Super 8 San Antonio - Alamodome Area Apartment, 1 Bedroom
1 king bed
Entertainment - Free wired Internet access and premium channels
Food & Drink - Refrigerator and microwave
Bathroom - Hair dryer
Non-Smoking

Room Amenities
Air conditioning
Cable TV service
Cribs/infant beds available
Daily housekeeping
Desk
Free local calls
Free wired high-speed Internet
Hair dryer
Iron/ironing board
Microwave
Premium TV channels
Refrigerator
Rollaway/extra beds available
Super 8 San Antonio - Alamodome Area Standard Room, 2 Queen Beds
2 queen beds
Entertainment - Free wired Internet access and premium channels
Food & Drink - Refrigerator and microwave
Bathroom - Hair dryer
Non-Smoking

Room Amenities
Air conditioning
Cable TV service
Cribs/infant beds available
Daily housekeeping
Desk
Free local calls
Free wired high-speed Internet
Hair dryer
Iron/ironing board
Microwave
Premium TV channels
Refrigerator
Rollaway/extra beds available
Super 8 San Antonio - Alamodome Area Standard Room, 1 King Bed, Accessible
1 king bed
Entertainment - Free wired Internet access and premium channels
Food & Drink - Refrigerator and microwave
Bathroom - Hair dryer
Non-Smoking

Room Amenities
Air conditioning
Cable TV service
Cribs/infant beds available
Daily housekeeping
Desk
Free local calls
Free wired high-speed Internet
Hair dryer
Iron/ironing board
Microwave
Premium TV channels
Refrigerator
Rollaway/extra beds available
Super 8 San Antonio - Alamodome Area Standard Room, 2 Queen Beds, Smoking
2 queen beds
Entertainment - Free wired Internet access and premium channels
Food & Drink - Refrigerator and microwave
Bathroom - Hair dryer
Smoking

Room Amenities
Air conditioning
Cable TV service
Cribs/infant beds available
Daily housekeeping
Desk
Free local calls
Free wired high-speed Internet
Hair dryer
Iron/ironing board
Microwave
Premium TV channels
Refrigerator
Rollaway/extra beds available
Super 8 San Antonio - Alamodome Area Suite, 1 King Bed
1 king bed
Entertainment - Free wired Internet access and premium channels
Food & Drink - Refrigerator and microwave
Bathroom - Hair dryer
Non-Smoking

Room Amenities
Air conditioning
Cable TV service
Cribs/infant beds available
Daily housekeeping
Desk
Free local calls
Free wired high-speed Internet
Hair dryer
Iron/ironing board
Microwave
Premium TV channels
Refrigerator
Rollaway/extra beds available
Super 8 San Antonio - Alamodome Area Comfort Room, 1 King Bed, Smoking
1 king bed
Entertainment - Free wired Internet access and premium channels
Food & Drink - Refrigerator and microwave
Bathroom - Hair dryer
Smoking

Room Amenities
Air conditioning
Cable TV service
Cribs/infant beds available
Daily housekeeping
Desk
Free local calls
Free wired high-speed Internet
Hair dryer
Iron/ironing board
Microwave
Premium TV channels
Refrigerator
Rollaway/extra beds available
Super 8 San Antonio - Alamodome Area Room, 1 King Bed, Non Smoking
1 king bed
Entertainment - Free wired Internet access and premium channels
Food & Drink - Refrigerator and microwave
Bathroom - Hair dryer
Non-Smoking

Room Amenities
Air conditioning
Cable TV service
Cribs/infant beds available
Daily housekeeping
Desk
Free local calls
Free wired high-speed Internet
Hair dryer
Iron/ironing board
Microwave
Premium TV channels
Refrigerator
Rollaway/extra beds available
Super 8 San Antonio - Alamodome Area Room, 1 King Bed, Non Smoking (Upgraded)
1 king bed
Entertainment - Free wired Internet access and premium channels
Food & Drink - Refrigerator and microwave
Bathroom - Hair dryer
Non-Smoking

Room Amenities
Air conditioning
Cable TV service
Cribs/infant beds available
Daily housekeeping
Desk
Free local calls
Free wired high-speed Internet
Hair dryer
Iron/ironing board
Microwave
Premium TV channels
Refrigerator
Rollaway/extra beds available
Super 8 San Antonio - Alamodome Area Room, 2 Queen Beds, Non Smoking
2 queen beds
Entertainment - Free wired Internet access and premium channels
Food & Drink - Refrigerator and microwave
Bathroom - Hair dryer
Non-Smoking

Room Amenities
Air conditioning
Cable TV service
Cribs/infant beds available
Daily housekeeping
Desk
Free local calls
Free wired high-speed Internet
Hair dryer
Iron/ironing board
Microwave
Premium TV channels
Refrigerator
Rollaway/extra beds available
Super 8 San Antonio - Alamodome Area Room, 2 Queen Beds, Smoking
2 queen beds
Entertainment - Free wired Internet access and premium channels
Food & Drink - Refrigerator and microwave
Bathroom - Hair dryer
Smoking

Room Amenities
Air conditioning
Cable TV service
Cribs/infant beds available
Daily housekeeping
Desk
Free local calls
Free wired high-speed Internet
Hair dryer
Iron/ironing board
Microwave
Premium TV channels
Refrigerator
Rollaway/extra beds available
Super 8 San Antonio - Alamodome Area Room, 1 King Bed, Non Smoking
1 king bed
Entertainment - Free wired Internet access and premium channels
Food & Drink - Refrigerator and microwave
Bathroom - Hair dryer
Non-Smoking

Room Amenities
Air conditioning
Cable TV service
Cribs/infant beds available
Daily housekeeping
Desk
Free local calls
Free wired high-speed Internet
Hair dryer
Iron/ironing board
Microwave
Premium TV channels
Refrigerator
Rollaway/extra beds available
Super 8 San Antonio - Alamodome Area Room, 1 King Bed, Accessible
1 king bed
Entertainment - Free wired Internet access and premium channels
Food & Drink - Refrigerator and microwave
Bathroom - Hair dryer
Non-Smoking

Room Amenities
Air conditioning
Cable TV service
Cribs/infant beds available
Daily housekeeping
Desk
Free local calls
Free wired high-speed Internet
Hair dryer
Iron/ironing board
Microwave
Premium TV channels
Refrigerator
Rollaway/extra beds available