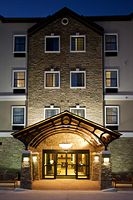 Staybridge Suites San Antonio Sea World
10919 Town Center Dr, San Antonio, TX 78251
1.800.916.2436
About Staybridge Suites San Antonio Sea World
Staybridge Suites San Antonio Sea World is a Hotel business in San Antonio SeaWorld
Property Location
When you stay at Staybridge Suites San Antonio Sea World in San Antonio, you'll be convenient to San Antonio SeaWorld. This family-friendly aparthotel is within the vicinity of Ingram Park Mall and Wilford Hall Medical Center.
Rooms
Make yourself at home in one of the 131 air-conditioned rooms featuring kitchens with stovetops and dishwashers. Complimentary wireless Internet access is available to keep you connected. Conveniences include desks and coffee/tea makers, and you can also request cribs/infant beds (complimentary).
Rec, Spa, Premium Amenities
Take advantage of recreation opportunities such as an outdoor pool, or other amenities including complimentary wireless Internet access and barbecue grills.
Dining
A complimentary buffet breakfast is included.
Business, Other Amenities
Featured amenities include a business center, dry cleaning/laundry services, and laundry facilities. Free self parking is available onsite.
Staybridge Suites San Antonio Sea World Amenities
Accessibility equipment for the deaf
Accessible bathroom
Accessible parking
Accessible path of travel
Barbecue grill(s)
Braille or raised signage
Business center
Dry cleaning/laundry service
Free Wi-Fi
Free breakfast
Free self parking
In-room accessibility
Laundry facilities
Number of buildings/towers - 1
Number of floors - 4
Outdoor pool
Pets allowed
Roll-in shower
Total number of rooms - 131
Staybridge Suites San Antonio Sea World One Bedroom One Queen Access Nonsmoking
1 queen bed or 1 bed
Entertainment - Free Wi-Fi, premium channels, and pay movies
Food & Drink - Kitchen with stovetop, dishwasher, and cookware/dishware
Bathroom - Private bathroom with a hair dryer
Practical - Sofa bed and free local calls
Non-Smoking

Room Amenities
Air conditioning
Coffee/tea maker
Connecting/adjoining rooms available
Cookware, dishware, and utensils
Cribs/infant beds (complimentary)
Desk
Dishwasher
Free Wi-Fi
Free local calls
Hair dryer
Iron/ironing board
Kitchen
Pay movies
Premium TV channels
Private bathroom
Rollaway/extra beds available
Sofa bed
Stovetop
Television
Staybridge Suites San Antonio Sea World Suite, 2 Queen Beds, Non Smoking
2 queen beds
Entertainment - Free Wi-Fi, premium channels, and pay movies
Food & Drink - Kitchen with stovetop, dishwasher, and cookware/dishware
Bathroom - Private bathroom with a hair dryer
Practical - Sofa bed and free local calls
Non-Smoking

Room Amenities
Air conditioning
Coffee/tea maker
Connecting/adjoining rooms available
Cookware, dishware, and utensils
Cribs/infant beds (complimentary)
Desk
Dishwasher
Free Wi-Fi
Free local calls
Hair dryer
Iron/ironing board
Kitchen
Pay movies
Premium TV channels
Private bathroom
Rollaway/extra beds available
Sofa bed
Stovetop
Television
Staybridge Suites San Antonio Sea World One Bedroom Suite, Two Beds, Smoking
2 beds
Entertainment - Free Wi-Fi, premium channels, and pay movies
Food & Drink - Kitchen with stovetop, dishwasher, and cookware/dishware
Bathroom - Private bathroom with a hair dryer
Practical - Sofa bed and free local calls
Smoking

Room Amenities
Air conditioning
Coffee/tea maker
Connecting/adjoining rooms available
Cookware, dishware, and utensils
Cribs/infant beds (complimentary)
Desk
Dishwasher
Free Wi-Fi
Free local calls
Hair dryer
Iron/ironing board
Kitchen
Pay movies
Premium TV channels
Private bathroom
Rollaway/extra beds available
Sofa bed
Stovetop
Television
Staybridge Suites San Antonio Sea World One Bedroom Suite, One King Bed, Non-Smoking
1 king bed
Entertainment - Free Wi-Fi, premium channels, and pay movies
Food & Drink - Kitchen with stovetop, dishwasher, and cookware/dishware
Bathroom - Private bathroom with a hair dryer
Practical - Sofa bed and free local calls
Non-Smoking

Room Amenities
Air conditioning
Coffee/tea maker
Connecting/adjoining rooms available
Cookware, dishware, and utensils
Cribs/infant beds (complimentary)
Desk
Dishwasher
Free Wi-Fi
Free local calls
Hair dryer
Iron/ironing board
Kitchen
Pay movies
Premium TV channels
Private bathroom
Rollaway/extra beds available
Sofa bed
Stovetop
Television
Staybridge Suites San Antonio Sea World One Queen Bed, Non-Smoking, Accessible
1 queen bed
Entertainment - Free Wi-Fi, premium channels, and pay movies
Food & Drink - Kitchen with stovetop, dishwasher, and cookware/dishware
Bathroom - Private bathroom with a hair dryer
Practical - Sofa bed and free local calls
Non-Smoking

Room Amenities
Air conditioning
Coffee/tea maker
Connecting/adjoining rooms available
Cookware, dishware, and utensils
Cribs/infant beds (complimentary)
Desk
Dishwasher
Free Wi-Fi
Free local calls
Hair dryer
Iron/ironing board
Kitchen
Pay movies
Premium TV channels
Private bathroom
Rollaway/extra beds available
Sofa bed
Stovetop
Television
Staybridge Suites San Antonio Sea World Suite, 2 Bedrooms, Non Smoking
1 king bed or 2 queen beds
Entertainment - Free Wi-Fi, premium channels, and pay movies
Food & Drink - Kitchen with stovetop, dishwasher, and cookware/dishware
Bathroom - Private bathroom with a hair dryer
Practical - Sofa bed and free local calls
Non-Smoking

Room Amenities
Air conditioning
Coffee/tea maker
Connecting/adjoining rooms available
Cookware, dishware, and utensils
Cribs/infant beds (complimentary)
Desk
Dishwasher
Free Wi-Fi
Free local calls
Hair dryer
Iron/ironing board
Kitchen
Pay movies
Premium TV channels
Private bathroom
Rollaway/extra beds available
Sofa bed
Stovetop
Television
Staybridge Suites San Antonio Sea World Studio suite w/one king bed non smoking
1 king bed
Entertainment - Free Wi-Fi, premium channels, and pay movies
Food & Drink - Kitchen with stovetop, dishwasher, and cookware/dishware
Bathroom - Private bathroom with a hair dryer
Practical - Sofa bed and free local calls
Non-Smoking

Room Amenities
Air conditioning
Coffee/tea maker
Connecting/adjoining rooms available
Cookware, dishware, and utensils
Cribs/infant beds (complimentary)
Desk
Dishwasher
Free Wi-Fi
Free local calls
Hair dryer
Iron/ironing board
Kitchen
Pay movies
Premium TV channels
Private bathroom
Rollaway/extra beds available
Sofa bed
Stovetop
Television
Staybridge Suites San Antonio Sea World Standard Suite
2 beds
Entertainment - Free Wi-Fi, premium channels, and pay movies
Food & Drink - Kitchen with stovetop, dishwasher, and cookware/dishware
Bathroom - Private bathroom with a hair dryer
Practical - Sofa bed and free local calls
Non-Smoking

Room Amenities
Air conditioning
Coffee/tea maker
Connecting/adjoining rooms available
Cookware, dishware, and utensils
Cribs/infant beds (complimentary)
Desk
Dishwasher
Free Wi-Fi
Free local calls
Hair dryer
Iron/ironing board
Kitchen
Pay movies
Premium TV channels
Private bathroom
Rollaway/extra beds available
Sofa bed
Stovetop
Television
Staybridge Suites San Antonio Sea World Studio Suite, 1 King Bed, Smoking
1 king bed
Entertainment - Free Wi-Fi, premium channels, and pay movies
Food & Drink - Kitchen with stovetop, dishwasher, and cookware/dishware
Bathroom - Private bathroom with a hair dryer
Practical - Sofa bed and free local calls
Smoking

Room Amenities
Air conditioning
Coffee/tea maker
Connecting/adjoining rooms available
Cookware, dishware, and utensils
Cribs/infant beds (complimentary)
Desk
Dishwasher
Free Wi-Fi
Free local calls
Hair dryer
Iron/ironing board
Kitchen
Pay movies
Premium TV channels
Private bathroom
Rollaway/extra beds available
Sofa bed
Stovetop
Television
Staybridge Suites San Antonio Sea World Studio Suite, 1 Queen Bed, Non Smoking
1 queen bed
Entertainment - Free Wi-Fi, premium channels, and pay movies
Food & Drink - Kitchen with stovetop, dishwasher, and cookware/dishware
Bathroom - Private bathroom with a hair dryer
Practical - Sofa bed and free local calls
Non-Smoking

Room Amenities
Air conditioning
Coffee/tea maker
Connecting/adjoining rooms available
Cookware, dishware, and utensils
Cribs/infant beds (complimentary)
Desk
Dishwasher
Free Wi-Fi
Free local calls
Hair dryer
Iron/ironing board
Kitchen
Pay movies
Premium TV channels
Private bathroom
Rollaway/extra beds available
Sofa bed
Stovetop
Television
Staybridge Suites San Antonio Sea World Suite, 1 Bedroom, Non Smoking
1 king bed
Entertainment - Free Wi-Fi, premium channels, and pay movies
Food & Drink - Kitchen with stovetop, dishwasher, and cookware/dishware
Bathroom - Private bathroom with a hair dryer
Practical - Sofa bed and free local calls
Non-Smoking

Room Amenities
Air conditioning
Coffee/tea maker
Connecting/adjoining rooms available
Cookware, dishware, and utensils
Cribs/infant beds (complimentary)
Desk
Dishwasher
Free Wi-Fi
Free local calls
Hair dryer
Iron/ironing board
Kitchen
Pay movies
Premium TV channels
Private bathroom
Rollaway/extra beds available
Sofa bed
Stovetop
Television
Staybridge Suites San Antonio Sea World Two Beds, Non-Smoking, Accessible
2 beds
Entertainment - Free Wi-Fi, premium channels, and pay movies
Food & Drink - Kitchen with stovetop, dishwasher, and cookware/dishware
Bathroom - Private bathroom with a hair dryer
Practical - Sofa bed and free local calls
Non-Smoking

Room Amenities
Air conditioning
Coffee/tea maker
Connecting/adjoining rooms available
Cookware, dishware, and utensils
Cribs/infant beds (complimentary)
Desk
Dishwasher
Free Wi-Fi
Free local calls
Hair dryer
Iron/ironing board
Kitchen
Pay movies
Premium TV channels
Private bathroom
Rollaway/extra beds available
Sofa bed
Stovetop
Television
Staybridge Suites San Antonio Sea World Studio Suite, 1 King Bed, Non Smoking
1 king bed
Entertainment - Free Wi-Fi, premium channels, and pay movies
Food & Drink - Kitchen with stovetop, dishwasher, and cookware/dishware
Bathroom - Private bathroom with a hair dryer
Practical - Sofa bed and free local calls
Non-Smoking

Room Amenities
Air conditioning
Coffee/tea maker
Connecting/adjoining rooms available
Cookware, dishware, and utensils
Cribs/infant beds (complimentary)
Desk
Dishwasher
Free Wi-Fi
Free local calls
Hair dryer
Iron/ironing board
Kitchen
Pay movies
Premium TV channels
Private bathroom
Rollaway/extra beds available
Sofa bed
Stovetop
Television
Staybridge Suites San Antonio Sea World Room, 1 King Bed, Accessible, Non Smoking
1 king bed
Entertainment - Free Wi-Fi, premium channels, and pay movies
Food & Drink - Kitchen with stovetop, dishwasher, and cookware/dishware
Bathroom - Private bathroom with a hair dryer
Practical - Sofa bed and free local calls
Non-Smoking

Room Amenities
Air conditioning
Coffee/tea maker
Connecting/adjoining rooms available
Cookware, dishware, and utensils
Cribs/infant beds (complimentary)
Desk
Dishwasher
Free Wi-Fi
Free local calls
Hair dryer
Iron/ironing board
Kitchen
Pay movies
Premium TV channels
Private bathroom
Rollaway/extra beds available
Sofa bed
Stovetop
Television
Staybridge Suites San Antonio Sea World Room, 1 King Bed, Accessible, Non Smoking
1 king bed
Entertainment - Free Wi-Fi, premium channels, and pay movies
Food & Drink - Kitchen with stovetop, dishwasher, and cookware/dishware
Bathroom - Private bathroom with a hair dryer
Practical - Sofa bed and free local calls
Non-Smoking

Room Amenities
Air conditioning
Coffee/tea maker
Connecting/adjoining rooms available
Cookware, dishware, and utensils
Cribs/infant beds (complimentary)
Desk
Dishwasher
Free Wi-Fi
Free local calls
Hair dryer
Iron/ironing board
Kitchen
Pay movies
Premium TV channels
Private bathroom
Rollaway/extra beds available
Sofa bed
Stovetop
Television
Staybridge Suites San Antonio Sea World Room, 2 Bedrooms, Accessible, Non Smoking
1 king bed or 2 queen beds
Entertainment - Free Wi-Fi, premium channels, and pay movies
Food & Drink - Kitchen with stovetop, dishwasher, and cookware/dishware
Bathroom - Private bathroom with a hair dryer
Practical - Sofa bed and free local calls
Non-Smoking

Room Amenities
Air conditioning
Coffee/tea maker
Connecting/adjoining rooms available
Cookware, dishware, and utensils
Cribs/infant beds (complimentary)
Desk
Dishwasher
Free Wi-Fi
Free local calls
Hair dryer
Iron/ironing board
Kitchen
Pay movies
Premium TV channels
Private bathroom
Rollaway/extra beds available
Sofa bed
Stovetop
Television