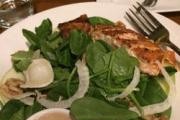 Edit
Brannon's Cafe
16641 La Cantera Pkwy
, San Antonio
, TX
78256
|
Directions
Hours:
Mon-Sun:
6:30 am - 10:00 pm
/
About Brannon's Cafe
Brannon's offers a variety of regionally-inspired dishes to meet everyone's tastes. Offering a casual, yet festive atmosphere with a wide variety of menu selections, it provides the perfect place to enjoy the panoramic views of the Lost Quarry Pools.
Brannon's Café is open daily serving fresh indigenous products for breakfast, lunch and dinner.